It looks like this blog is growing at a very slow but steady pace. The first indication is the subscribers count, the next one are visitors but the most noticeable one are emails in my inbox.
I'm receiving emails from may countries around the world written by people from Africa, South East Asia and some European countries in crisis like Greece and Spain. The majority of them have something in common: they are highly ineffective, unreadable and (please forgive me) shameful.
I imagine that the same emails I receive from this desperate people in need of greener pastures are also sent to other recipients in Canada… with the same results: open, scan and trash. All in a 5 seconds time or less.
Today I want to help you write better emails. I want you to understand what you could do to make your emails interesting and worth the reader's time and, of course, accomplish your target: get a chance of coming to Canada or at least obtain the information you need to start your way towards your main goal.
Put yourself in the other guys shoes
Put yourself now in the place of a recruiter for a company or employment agency or any other person you want to contact you to ask for a formal or informal interview or informatioj or whatever you may need.
Suppose, to make the example more real, that is someone who was recommended to you by an acquaintance. That person can help you in your job search and you should contact him/her without knowing you. You must, in some sense, "seduce" this person through your note in access to get what you want.
How do you achieve that? What should you consider to make this person read that email?
Today I want to introduce a very simple structure of three steps that can help
An email model to receive a "yes!"
Check this email…
Hi Mr G I want you to help me get a job in Canada. i have a DIPLOMA in visual art, but at the moment you can fine me any job. THANK YOU.
Dear Sir, Now I'm in Bangladesh. I want to do job in Canada. So what should I do for that?
Because I want to job in Canada. And settle.
They are real emails sent by real persons. No joke. Can you guess what happened to them? Do you think they were able to receive the answer they were looking for?
A few days ago I read a note from a well-known blogger in the niche of "email marketing" called Derek Halpern. Derek wrote a note about how to write emails that people get answered but focused niche blogging, marketing and others. It occurred to me while reading his post (and remembering emails like the ones above) that those same steps could be used for the cases I was writing about above and more related to the immigration to Canada subject.
In his post for Appsumo.com, Derek wrote that you should follow three basic guidelines:
It must pass the "WIFT" test
should minimize the "Brain Pain" and
should be "risk free".
Let's take a look at these three steps in more detail.
The "WIFT Test"
One of the most frequent error when sending an email is thinking only on us and OUR goal. What do WE want.
"Hello Sir, I want to have coffee with you so you can tell me about where I can get a job"
Or
"Hello Mr. Recruiter, I am the best in everything I do, please call me for an interview"
I'm exaggerating, of course. But I guess you get the point.
The "WIFT Test" means "What's in It for Them Test" or "What does the other receive for this?". Have you ever stopped and think that the other person also wants to win something for his/her effort? And by "win" I do not mean money. I mean a benefit of any other style. Something to compensate the time he/she is going to give you for what you need.
Ladies and Gentlemen, we are in North America and the common thought here is:
I value my time and I believe my is worth something. Your time also is worth something. Why should I meet you? Why should I continue reading your resume? What benefit will I get to hire you? Why would I want to give you a hand? I have no obligations to you.
You must "seduce" the other in your email! Tell the other person WHY they have to help you and what they are going to get in exchange.
Minimizes "Brain Pain"
Have you ever read those blog or facebook entries or even emails where at the second line you just don't want  to read more? That's "brain pain": you feel your head explodes if you go on! I'm sure you've crossed dozens of times with such cases.
Use concrete language and to the point. Let the reader know what you want without hesitations.
Make a  "Risk Free" proposal
Finally, Derek talks about the "Risk Free" proposals.
Do not put your interlocutor at risk. Do not make offers or proposals that could be a hazardous.
If you passed the first filter "WIFT" and reading has not caused a headache, you're very close to achieving your goal.
That "What's in it for me?" must be supplemented by something that poses a risks to the other person. And if there is risk, there is a way to counter it.
I propose that we meet at (whatever place) at (whatever time). I'll be there a few minutes before as I know how tight your schedule
Your proposed salary is below my expectations. I propose that we test each for three months. If you like my work, we discuss an increase at the end of the term.
Risk-Free!
How to ensure that your email will never be ignored
Finally, and in addition as stated above, is a video of Derek Halpern explaining all this.
Please separate the wheat from the chaff. The video is intended for people dedicated to marketing, but intelligent people should be able to adapt the teachings to our main subject of Canadian Immigration: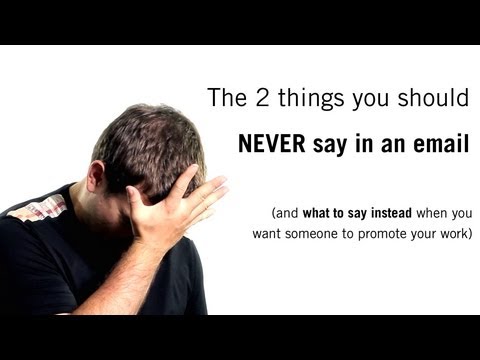 You can also read his note on the subject here.
Do you know someone who would be interested in this topic? Send this article or share it on facebook!